Kids Dance and Sing to Anand Bhatt's New CD Promoting Healthy Activity with Fun Music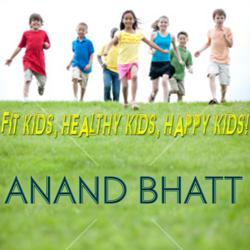 Anand Bhatt switches tunes with a new cd. The album Fit Kids, Healthy Kids, Happy Kids! is full of engaging rhymes and easy to follow rhythms to get kids up and moving.
Anand, as an international rockstar and the first Indian American to be inducted into the Latin Grammy's, is a proud advocate for health and fitness and wants to share his passion for good health and daily activity to help kids make healthier choices.
"What better way to get children moving than with music?" said Anand. "It was fun creating an album aimed at getting children to move and have fun. With this CD, I hope to help kids do exactly what the title states, be fit, healthy and happy."
Songs such as Get Some Fruit, Monkey Jumps, and Lean Protein included in this exciting album of brand new music will help motivate children lead healthy lives in a fun and exciting way. Lyrics include dancing instructions to better engage children and easy to follow rhymes that encourage kids to sing along and actively participate.