Anand's "Coconut Water" song and endorsement campaign for the O.N.E. brand continues to be a fan favorite!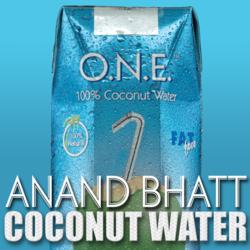 Coconut Water

"We're happy to partner with such a talented artist as Anand Bhatt!"

- Marketing Manager for O.N.E. Coconut Water
Super Brand Exposure gained for O.N.E. Coconut Water via a creative exclusive song and marketing/promotional push from Anand Bhatt. Major promotional retail distribution and social media push yielded wide global exposure for the brand by solidifying loyalty from existing customers and reaching millions of potential new customers. The project continues to be a marketing success.
SEE AND HEAR THE SONG HERE: